St Lucia Segway Nature Trail Experience
Caribbean » Saint Lucia » St Lucia » Castries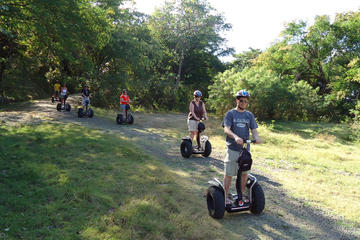 (5.0)
Duration: 2 hours
Departs: Castries, Saint Lucia
Price from USD 84.99
Book Now
Learn how to ride a Segway in St Lucia on a special Segway nature trail! You'll practice first around a circuit, then hit the trail and explore the historical wonders of Mt Pimard. This Segway tour is safe and fun for people of all ages, and it'll be the highlight of your St Lucia vacation!
Your St Lucia Segway tour starts at the Segway practice track, where you'll have a 20-minute orientation session. Get the feel of your new vehicle, and test out the Segway X2's amazing balance controls. Professional staff and equipment allow for a safe and fun experience for all.

You'll then hit the nature trail, which begins right in the heart of Rodney Bay. Explore the historical wonders of Mt Pimard as you "glide" effortlessly along the 1.7-mile (2.7-km) trail system. Your friendly naturalist guide will explain everything along the way -- from the exotic flora and fauna to the battles between the English and French over the Helen of the West Indies!

There are plenty of photo stops and educational spots along the way. Explore the now-sealed bunkers that once served as tunnels, storage and lookouts for the American Military during World War II, and enjoy breathtaking vistas of Pigeon Island, Reduit Beach, the Rodney Bay Marina and the Caribbean Sea. Other stops include a local fruit shop and a pond where you'll feed fresh-water fish.
Special Offer - Book with us and save 10% compared to another travel site! - Book Now!
« All Activities