Day Pass to Bay Gardens Resort Including Water Sports or Massage
Caribbean » Saint Lucia » St Lucia » Castries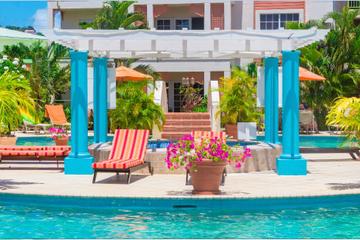 (5.0)
Duration: Varies
Departs: St Lucia
Price from USD 84.99
Book Now
Soak up nothing but fun and sun with a day pass at beachfront Bay Gardens Resort in St Lucia. After lounging on white sands under a palapa, treat yourself to other perks of resort life. Tuck into a sumptuous lunch and enjoy up to four beverages. Choose between a blissful massage or two exhilarating water-sport activities — maybe join in the latest stand-up paddleboard craze. For one fine day, leave your worries behind.
Upon arrival at Bay Gardens Resort in Rodney Bay Village, enjoy access to the amenities of the beachside hotel. With all day to spend here on your beach lounger, choose from a variety of activities and feel like the elite with nothing but time to burn.

Golden that tan of yours on the white sanded beach until the sun-dappled Caribbean calls out to you. Cool off with a refreshing dip and then mosey over to a hotel bar to sip one of your four beverages included in the day pass (alcoholic or nonalcoholic house-brand drinks only).

One of the few decisions you'll make during this stress-free day: unwind with a 20-minute massage at La Mer Spa, or indulge your adventurous spirit with two water-sport activities, or spend a half day at Splash Island Water Park with a complimentary pass. If you choose the latter, try your hand at the latest rage — balancing on a stand-up paddleboard that strengthens your core muscles as you pull yourself along in the water. Or lean in during hobie-cat sailing in the calm surf, great for beginners and avid sailors alike. Kayaking, water skiing or tubing also could be one of your two water outings. Receive gear and instruction as necessary for all these sports.

Remember to hydrate yourself throughout the day, and when your stomach rumbles in hunger, head over to a on-site restaurant, Hi Tide, and tuck into a delightful two-course meal. Perhaps you'll want to snooze or freshen up inside a guestroom at the hotel, which is provided with your day pass, subject to availability.

When you're done with your day of fun and pampering, retrieve your belongings and head back to your hotel.
« All Activities